INVESTMENTS
Investment Guidelines
Introduction
As per Seychelles Pension Fund (SPF) Act, surplus funds must be invested to yield maximum returns to strengthen the financial position of the SPF. To ensure the best interest of its members and astute investments.
Download Investment Guidelines
 Investment Plan
SPF has revised and issued its investment plan for the years 2016 to 2020 focusing on the re-development of its properties to maximize returns to assist in its sustainability in the long term. Investment in property development is in addition to SPF's investment in Government securities, bank deposits and shares in profitable companies as per the investment portfolio and as such opportunities arise.
The plan has a long-term vision to generate sufficient income to pay pension and other benefits.
INVESTMENT PORTFOLIO
1. Investment Projects by the Seychelles Pension Fund.
1.1. Residential Development- North East Point
SPF started the residential development at North East Point, Mahé as part of the diversifying process in property development. The project consists of 2 blocks of ground plus three story building of 28 two bedroom executive type, high quality, air-conditioned and fully furnished apartments with parking facilities. The Fund started the project in March 2014 which is scheduled to be completed in June 2016.
1.2 Pirates Arms Re-Development Project
The proposal is to build a multi-story commercial building. Facilities that will be incorporated in this development are parking facilities, shops, offices, and restaurants. The total area of the entire building will be 21,190 square meters.
NEW PROJECTS
1.3 Residential Apartment Project at Perseverance
Due to the high demand for affordable private housing in the country, SPF has decided to launch itself into this market. The project will consist of 28 two bedroom apartments and 18 one apartments on a 3,127 square meter plot on Ile Perseverance.  The project is in the initial stage and the architectural plans has been submitted to Planning Authority for approval.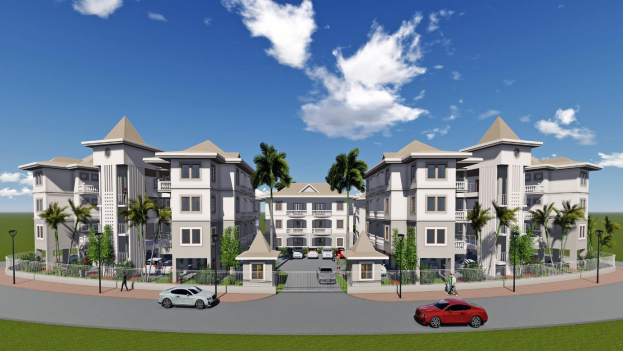 1.4 Eve Island Warehouse Project
SPF has in its plan the construction of a warehouse on Eve Island Praslin, adjacent to its existing rental facilities. The Fund has already secured a tenant for the warehouse building for a period of 10 years.
This investment is expected to benefit the Praslin Community.
1.5 Micro Enterprise Project at Anse Boileau
The project has commenced and will be completed in 1 year time
1.6 Micro Enterprise Project at Ile Du Port
The project will consist of two buildings, a ground plus two floors building, with mechanical workshops and storage space. The second building will consist of offices/shops and archives/warehouses on the upper floors. The project will also help to create new opportunities for small businesses locally. The detailed drawing has been submitted it to the Planning Authority for approval.